If you're like millions of people all over the globe, you have bad credit. That sounds tough in theory, and maybe even a little embarrassing, but the truth is that we've all been there. What with the countless expenses that arise in everyday life and the fact that any individual's "piece of the pie" continues to shrink (no way, for example, is anyone going to be able to afford a house after ten years working full-time, as was the case thirty years ago), many of us don't have the best of credit. And because of that, many of us don't have a credit card–and aren't able to get one.
Fortunately for you, should you find yourself in this situation, a solution is available. This is called the shopping cart trick, or alternately the soft pull trick. The trick is derived in the fact that many websites, while in the process of pre-approving you for a credit card, won't check your credit score during this step. The result? Basically, you can get a card without what's known as a "hard pull" (which will damage your credit)–and none will be the wiser.
If you're still a bit confused, that's understandable. After all, most people don't know this secret, even if they've been trying to get a credit card for ages. So, we're going to break the process down for you, step by step. And in the end, you'll get a credit card–which you can then use not only to make shopping a little easier and earn loyalty points but also to help you gain a high credit ranking.
Without further ado, then, let's have a look at the process of using the shopping cart trick for credit cards.
How Shopping Cart Trick Works
1- First, clear all your cached data and history off of your browser
 Clear your browsing history, cache, and cookies by accessing the Settings menu and then deleting data from "all time." Then, use Private browsing in Firefox or Incognito mode (Chrome); these will ensure that no history is saved while you browse. This first step is vital because you don't want to give the credit-card companies any inkling that you might not have the credit necessary to get a new card. After all, there's nothing stopping them from snooping in your browsing history and saved data to compromise your experience.
2- Make an account on the website where you'd like to get a credit card
This is going to depend on the website, but, in general, should be an option. When entering your information, use the same data (address, etc.) that can be found on your credit report. Also be sure to subscribe to the e-mail correspondence service, so that, once they approve you, you'll be notified via your e-mail inbox.
3- Start adding products to your shopping cart
Put in quite a bit of item, but not too many; the total should come out to somewhere around 100$. Use multiple items, rather than just one. Then, proceed to checkout.
4- Add all your information on the checkout page
Start typing your information, but make a point of doing it manually; don't, say, use the autofill feature that's offered on browsers like Chrome. Type slowly for the best results. And, most important of all, don't buy the items or click submit.
5- Wait for the pop-up from Comenity Bank saying that you've been pre-approved
 The shopping cart trick for credit cards isn't guaranteed to work all the time–but if it does, a pop-up will appear on your screen, saying that you have been pre-approved for a card. So, if the pop-up asks for the last four digits of your social security number, then you know the method is successful.
6- If you don't get the pop-up, try again
 Try altering the items in your shopping cart so that the totals add up differently: 50$, 150$, and so forth. Depending on the website you're using (since the shopping cart trick doesn't work with every website), you should be able to get the pre-approval eventually. Don't be afraid to go to other websites, either; there's no reason to limit yourself.
Things to keep in mind while you're trying to use the trick
Now that you're a little more familiar with the process, you might be ready to use it soon. If that's the case, here are some warnings/tips to keep in mind while you're trying to get your credit card.
Opt yourself in for credit-card offers so that this trick will work
 You can change your opt-in status at websites such as https://www.optoutprescreen.com/. You might already be oped in if you've received promotions by mail, and if you've never filled out a website form specifically meant to opt you out. This is the most vital step, as you cannot do the trick without it.
Turn off your pop-off blocker
 The pre-approval message will often come as a pop-up message, so make sure that you have it turned off. You can do this by accessing the extension (generally Adblock or Unlock Origin). Be sure to whitelist your pop-up blocker only for the websites you're trying to use to get a credit card; you don't want to enable pop-ups on every single website you visit. I think we can all agree that that would just be a huge headache.
Don't submit your social security number in full
 As we said earlier, you're generally going to be asked for the last four digits of your number. You definitely don't have to give the company the whole thing, as this will just encourage them to go snooping into your account–and that's something you're going to want to avoid at all costs.
Make sure the pop-up is from Comenity Bank
Comenity Bank is one of the few (if not the only) banks that offer this service. Luckily, the bank is compatible with lots of store credit cards for you to choose from.  Examples include Motorola, J. Crew, Gamestop, Abercrombie & Fitch, Victoria's Secret, Wayfair, and a plethora of other brands you know and love–as well as a few that you'd do well to try with for the first time.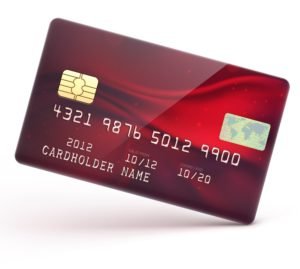 It will be more difficult to get a credit card if you don't know precisely what you're doing. For this reason, go for the most helpful cards, including the Horizon Gold Card and the Luxe Signature Card. The first one can offer you a credit limit of 500$ and the second, 1500$. Both of these cards feature guaranteed approval–so that you can get them (using websites associated with Comenity Bank) no matter how poor your credit score or credit rating is.
Few Comenity Bank Store Credit Cards to Choose:
Ann Taylor
Bath & Body Works
Abercrombie & Fitch
Buckle
Brylane Home
Coldwater Creek
HSN
Express
Jessica London
MyPoints
JJill
J.Crew
Loft
Motorola
King Size Direct
New York & Company
Sportsman Guide
Total Rewards
Venus
One Stop Plus
Gamestop
Victorias Secret
Wayfair
Finally, why does this trick work?
 This trick works because  Comenity Bank is notoriously lax in checking the credit scores or reports of people just like you. While this might sound bad for them, it's definitely good for you, since having a poor credit score–or not having a credit card–will just make your life that much more complicated than it needs to be.
It also works–without much trouble for you– because pre-approval requires a soft credit check, as opposed to a hard one. This is similar to a hard credit check, in which your report is looked at (by you yourself, by credit-card companies for pre-approval, or by employers seeking a background check), and it also doesn't affect your credit score, as a hard credit check will. This makes it safer and more efficient to use than getting a hard check from your local bank, which puts a black mark on your record. Instead, a soft check simply shows that you or someone else had a look at your file.
The shopping cart trick: bring yourself back to financial stability
When all's said and done, while having bad credit is a heavy burden for many people to bear. It will prevent you from securing loans, lines of credit and mortgages–which is terrible news for those who want to buy a home or apartment–or ensure that they all have a higher cost than for people who have good credit. It will also result in high-interest rates on loans (when they actually are approved), bring trouble for you when you need to secure an apartment or duplex, and encourage landlords to force you to give them a security deposit–even though this practice is illegal in many jurisdictions. In some cases, having bad credit might even prevent you from getting a cell-phone contract, so that you won't even be able to communicate with your friends and family.
But on the bright, there's a solution to this problem: the shopping cart trick, in which you trick a website into pre-approving you for a card by filling your virtual shopping cart up with items. It will allow you to get the card you so rightfully need so that you can bring your credit score up to high levels and make your life much more secure in the future. Consider using the trick today; it will allow you to prepare yourself for whatever life has in store for you.